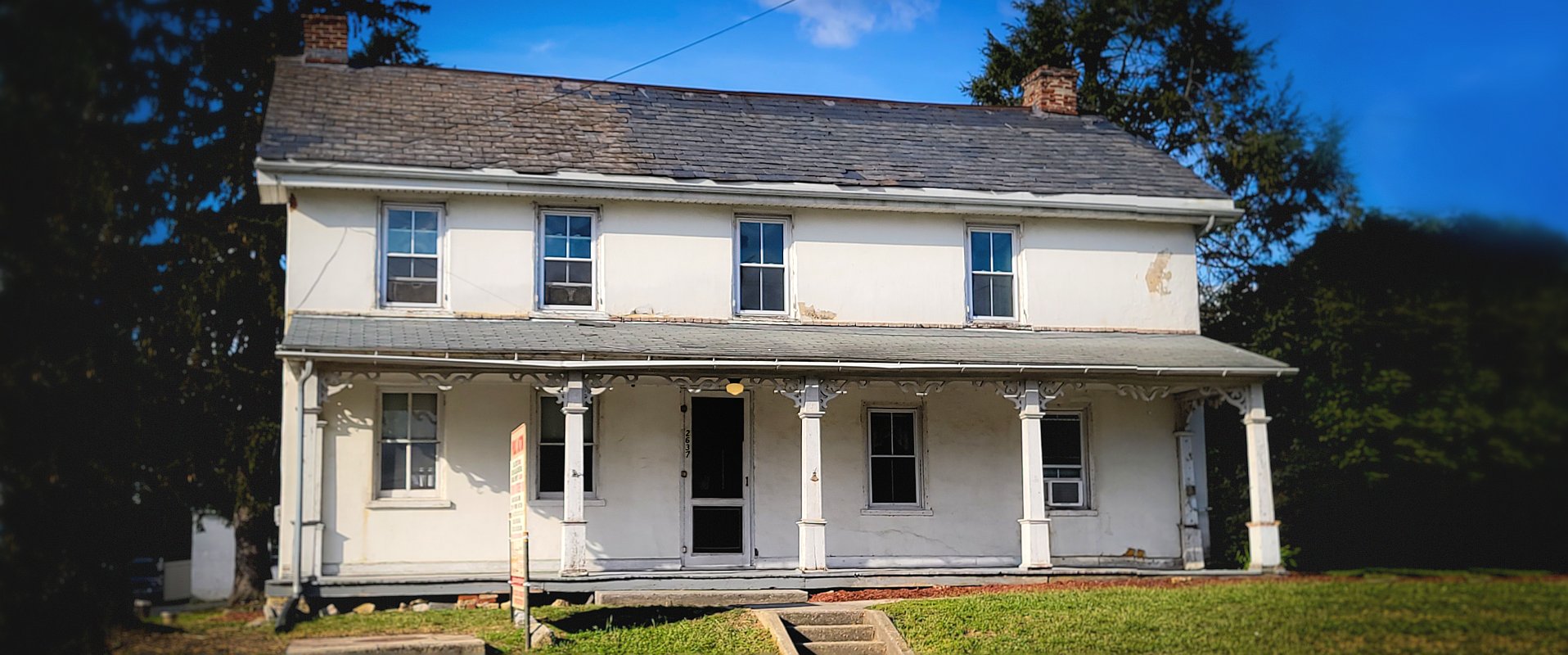 This Property Needs to be Sold!
No Reasonable Bid Will Be Rejected!
If you have any interest in this property
please contact the auctioneer, Mr. Al Reist,
at (717) 951-5088.  Thank You!
**WATCH FOR UPDATES AND FULL LISTING**
 This is DAY ONE of a TWO DAY AUCTION!
Mrs. Betty Burkhart Estate
PUBLIC AUCTION
2637 OLD PHILADELPHIA PIKE, BIRD IN HAND, PA.
Valuable REAL ESTATE
Zoned Village Residential
2  Story Old Colonial Home
1ST AUCTION – SATURDAY, OCTOBER 16, 2021
PERSONAL PROPERTY AT 9:00 A.M. 
Personal Property
will be sold by
two auctioneers,
both will be selling
at the same time,
so
be sure to bring a friend
so you don't miss out.
2ND DAY AUCTION SAME LOCATION
SATURDAY, OCTOBER 30, 2021
see details below.
SCHEDULE
9:00
Auction Begins
Personal Property
12:00
Real Estate
Real Estate
7 Room, 2.5 Story
Old Colonial Single Family,
Stone and Brick Home Built in 1850
with 2,472 Sq. Ft. Living Area,
enhanced by Random Width Flooring; BanisteredStaircase; a Walk-in Fireplace, Spacious Rooms, a Large Eat-in Kitchen, Living Room
with Fireplace, Dining Room, Deep Window Sills, Front Porch.
the Home includes:
Hot Water Heat;
a Detached 30'x 60' Concrete Block Building built in 1963, including a garage area and an office/showroom area, Nice double doors, and 2 Overhead rolling Garage Doors;
2 Storage Sheds.
Spacious Parking Area
Lot Size: 0.63 Acres
Nice Investment Opportunity. 
Excellent Curb View. 
REAL ESTATE 
(to be auctioned at noon)
DWELLING:  2 Story Home (2472 sq.ft.). Lot Size: .45 +/- Acre; Stone w/ Stucco over Stone;
Detached 30'x 60' GARAGE w/ 2 Roll up Doors & 2 Main Doors
FIRST FLOOR:
EAT-IN KITCHEN: (18' x 19') with Maple Cabinets; Refrigerator; Ceiling Fan; Vinyl Flooring; Double Stainless Corner Sink; Walk-in Brick Fireplace (3.5' x 4'); Adjcnt. 2 Floor & Basement Stairwell; 2 Side Door Exits to Porch Areas and 2 Doors to Dining Room & Hallway;
DINING ROOM: (14' x 19') 4 Large Windows w/ Deep Sills; Vinyl over Original Random Width Pine Boards;
LIVING ROOM: (13′ x 20') Fireplace – Ornamental at this time. Marble Front w/ Ornate Metal Cast Iron Front; Original Pine Random Width Floor Boards; 4 Deep Sill Windows;
First Floor ½ BATH: (3' x 6') Vinyl Flooring; Sink & Toilet; Adjct. Foyer Hallway; Built in 3 Shelf Wall Bookcase; Formal Foyer (6' x 8') Hallway: (5' x 13') Adj. Banister (3' x 13') Staircase to 2nd Floor; Original Woodwork Throughout;
Laundry: Washer & Dryer Hookup in Basement;
SECOND FLOOR w/ Random Width Flooring:
#1 BEDROOM N.E. (10.5' x 14') with closet (6' x 8.5');
#2 BEDROOM S.E. (7.5' x 16.5') w/ Closet adjacent walk-in used by N.E. & S.E.;
#3 BEDROOM S.W. (11.' x 14') w/ closet (1.6' x 5');
#4 BEDROOM N.W. (9' x 14') w/ Closet (2' x 2.5');
#5 BEDROOM N. (11' x 17') adj.
Second Floor Bath: (7' x 7') w/ Linen Closet & Medicine Cabinet; Located Under Staircase;
HALLWAY: Joins all 5 Bedrooms;
FULL ATTIC: with 3 Sections and Access from 2nd Floor near Full Bathroom;
THREE-ROOM BASEMENT:
North Section (15' x 18') Original Fireplace (not operable), Washer & Dryer Hookup;
South Section (11' x18');
Southwest Section (12' x 19') Furnace w/TDS "S" series, Thermo Dynamics Corp. Model S125, Serial # 119619, March 2019, New 2019 275 Gal. Fuel Tank; Bilco Door Access Through Side Porch to Laundry Area;

click any photo above for a complete gallery
OTHER AMENITIES:
Oil Fired Hot Water Furnace;
Window Air Conditioners;
Well Water; Public Sewer;
Slate Roof on House;
3 Ground Level Porches and 1 off Second Floor.
Storage Shed (10' x 12').
Excellent Curb View.
Taxes:     Co.: 675.93   Mun.: 441.18 School: 3,360.00
For Inspection by Appointment and R.E. Portfolio with Extensive Details, Please Contact Al Reist, Auct.
717-951-5088 or 717-569-2409. Note:   See auctionzip.com for more photos.
Real Estate Terms: 10% down sale day, balance & settlement in 45 days.
Auction For:  Mrs. Betty Burkhart Estate     – Mrs. Nicole Copeland, Executrix
Attorney: Mr. John H. May, Esq.
Auction Conducted by: Reist Auctioneers LLC, Al Reist, Auctioneer License Information: AU-1637-L
Information obtained from reliable sources.  No liability for accuracy or errors assumed by auctioneer. ALL TERMS AND CONDITIONS AND OTHER ANNOUNCEMENTS MADE THE DAY OF THE AUCTION ARE BINDING AND TAKE PRECEDENCE OVER ANY INFORMATION FOUND HEREIN.  ALL ITEMS SOLD AS IS. NOT RESPONSIBLE FOR ERRORS OR OMISSIONS IN PRINTED MATERIALS. BUYERS RESPONSIBLE FOR ITEMS ONCE SOLD.
PERSONAL PROPERTY FOR OCTOBER 16TH AUCTION
Primitives , Antiques, Collectibles, Furniture, Tools,
 Numer. Showcases of Items, 20+ 4×8′ tables of Tray Lot and Pcs. Merchandise
PERSONAL PROPERTY:
(to be auctioned in 2 locations by 2 auctioneers at 9:00AM )
Primitives, Collectibles, Furniture, Tools,
Numer. Showcases of Small Items.

click any photo above for a complete gallery
20+ (4×8′) Tables of Pcs. & Tray Lot Merchandise
ANTIQUES/COLLECTIBLES: Early Dove Tailed Cradle, Yarn Winders, Spinning Wheels; Brass Bucket; Oil Lamps; Child's Metal Magnetic Alph. Bd.; 5 Gal Crock; Cowden Jug; Yellowware; TIN: Cookie Cutters, Molds, Funnels; Cans; Fire Extinguisher; Document Tube; Cast Iron: Door Stops, Cat Trough, Bookends, Sad Irons, Scales, STOVE DOOR w/ CONESTOGA WAGON & TEAM from Quarryville, PA, Pump Trough; German Door Locks, 20+ Meat Grinders, Corn Mill; Tin Dollhouses, Brass Candlesticks; Boxes of Postcard and Baseball Cards, Ceramic Rabbit Easter Basket Cookie Jar; Woven Baskets; Child's Rocker; Charlie McCarthy Puppet; Trains & Accessories; Schaefer Beer Boat Clock; CHILD'S Metal, Wooden & Rubber Toys; Num. Books & Puzzles; Brownie Camera, Kodak Movie Projector in case; Efanbee and Beskiloid Dutch Walker Dolls; Rolling Pins; Num. Canning Jars; Insulators; Nice Heisey Glass Bowl; Fostoria pcs.; Cut Glass Pitcher; Noritake, Austrian, Lenox, Occupied Japan, German & French China pcs; George & Martha Germ. Plate; Royal Copley Pig, Pennsbury Pitcher; Green & Pink Depression; Lefton Hat w/ Pipe; Chalfe Dog, "Ideal Animal" Dog by Frank Buch w/ Orig. Tag; Schmidt's Beer Items; Stangel ware; Framed Prints & Pictures & Local Advertising Items; Lg. Pennsylvania Railroad Tin Lantern; 1934 Calendar; Tin Doll Carriage, Early Paper Doll & Clothes; Child's Microscope; Cowgirl Skirt; Blue, Gray Agate Kettle w/ Lid & Handle & More; Unusual Wooden Child's Swing; Numer. Erector Sets, Games, etc.; 6 Blue Delft Type Totes; Lebanon, PA German Slipper; Lg. Tonka Fire Ladder Truck; 12 Tray Set of Whist. Trays in Box; Lg. Select. Of Meat Grinders; Early Christmas Balls; Stenciled Bags; Numer. Vintage Hats & Hat Boxes; Victorian Lamp Shades; Mid. Cent. Radios; Old Military buttons; Num. Silverplate Sets of Flatware, etc.; Cloth Dolls, Child's Blocks; Roseville; Vintage & Foreign Clothing; Wall Hangings; Boxes of Price Guides; Antique Collect. Reference Books; Comic Books; Piano Sheet Music; Showcases; Shelving; Old Manuals; "Official Guide Standard Time of Railroads and Steam Navigation Times": 3 Volumes (Nice); TOOLS: Sm. Anvil, Work Bench, Early Wooden Tool Boxes, Old Flail, Hand Tools, Ice & Hay Hooks & Tongs, Corn Mill Grinder, Early Bag & Tin Duster, Goose Decoy, Fastner File Cabinets, 20 Drawer Work Bench, Vise, Corn Drying Pan, Planes, Brass Blow Torch, Heavy Duty Plastic & Wood Park Benches.  Many, many more wonderful items still to be unboxed. 
There is an enormous number of items of a nice variety. 
TOO NUMEROUS TO LIST ALL. 
YOU WILL BE PLEASANTLY SURPRISED. 
PLAN ON ATTENDING BOTH DAYS OF AUCTION.
Many items have been placed in numbered cardboard flats.
Many items will be also sold separately.  
Buyer may keep the flats with their items. 
Auction to be held under a large tent.
Clean Porta Toilets available.
PERSONAL PROPERTY TERMS: All Items sold as-is.  Pay in full sale day. Cash or good check. No out of state checks.  Credit Card w/ 3% fee.
Food available.  
Auction For: The Estate of Betty Burkhart
Mrs. Nicole Copeland, Executrix  
~~~~~~~~~~~~~~~~~~~~~~~~~~~~~~~~~~~~~~~~~~~~~~~~~~~~~~~~~~~~~~~~~~~~~~~~~~~~~~~~~~~~~~~~~~~~~~~~~~~~~~~~~~~~~~~~~~~~~~~~~~~~~~~~~~~
OCTOBER 30TH – 2nd AUCTION
PERSONAL PROPERTY:
Antiques, Collectibles, Furniture,
Glassware & Christmas Items, Numer. Showcases of Items.
                   Total liquidation of Betty Burkhart Antique Shop – Pickup Truck
Lanc. Collectibles – Jewelry
Local Businesses Burlap Feed Bags; Hubley Cat Doorstop; C.I. Laying & Sitting Cats; Early Embossed Calendars from Local Businesses; Boxes of 1930's Scrap Books; Huge Lancaster City Collection of Rulers, Yardsticks, Bottles, Books, Milk Bottles, Novelty Promotional Items, Tins, Calendars, and Trays; Antique and Vintage Board Games, Vtg. Barbies, GI Joe, Hot Wheels, Fisher Price, Little People's, Matchbox, and Promotional Toys.
Dolls:
4 Bisque Artist Dolls; Bisque head and composition body by Doris Maxwell; Madame Alexander, 8" and larger, and Marybelle; Ideal Chrissy dolls; Other Ideals;Hard plastic dolls;Toni's;1950s older dolls;10" hard plastic Vogues; Composition dolls; Vintage Dolls;
Doll clothes for large, medium, and small dolls. Many boxes and tray lots including panties, slips, Christening gowns, bonnets, socks & shoes, dresses, full outfits, coats, and accessories.
Old Books:
1855 Der Giole Cathecismus oder: Kurzer
1892 Standard Diary #235
1897 Historical & Illustrated Sketch of Lanc. ; L C Reisner & Co.
1925 Survey Map Guide Volume PA
1904 A Little Rough Rider by Tudor Jenks
1880 Rose Bryant by Emma Marshell
Bottles:
A. Kiehl, Lancaster PA – Dark Blue, Cork Stopper
A. Kiehl, Lancaster PA – Med. Blue, Cork Stopper
George A. Kiehl, Lancaster PA – Lt. Blue, Cork Stopper
Casper, Lancaster, PA
Oil Co. #50
Oil Co. #W3
Manor View Dairy, Millersville PA #25 and #73
Moore Milk, Salesman's Sample #4
W.W. Keifer, Lancaster, PA 12 oz.
Kauffman's Dairy, Duraglass Bottom ½ Pint
Engle Bott. Works, Lanc., w/ Stopper Top
Queen Dairy ½ Pint
Kiehl 3 Keiler, Lanc.
CVM, Sm. Bottle
Heinteh Ice King, Lancaster
Whestling Bottle Co. Lanc.
Rocky Springs Dairy, ½ Pint
Moore Milk
Mabel Steffy, Ronks, Ruby Glass Spooner
Chas. Zich Bottler, Lanc.
Penn Dairies, 1 pt.
Kendig Dairy, Millersville
Auction Conducted By:                                    Auction For:
REIST Auctioneers LLC                                      The Estate of Betty Burkhart
Al Reist, Auct. AU- 1637-L                                   Mrs. Nicole Copeland, Executrix
Lancaster, PA 717-951-5088         Or 717-569-2409
**Information obtained from reliable sources. No liability for accuracy or errors assumed by auctioneer. All purchasers are responsible for their purchases once sold. Announcements made day of sale supersede any printed material.** [
TRUCK
(Comming up on day 2 of the auction, October 30,2021)
click images above for a larger view
click the button below for a very large view
(use scroll bars and thumbnails at the bottom of your screen to navigate)