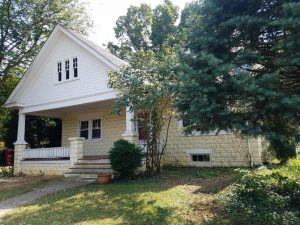 D. Elaine Graybill's
PUBLIC AUCTION  VALUABLE REAL ESTATE
Investment Opportunity
Saturday, November 9, 2019
Personal Property – 9:00 A.M.  – Real Estate – 11:00 A.M.
2136 New Holland Pike, Lancaster PA 17601 –  East Lampeter Twp, Lancaster County
DWELLING:
1.5 Story Concrete Block  Home (1,763 sq. ft.) Slate Roof; Detached GARAGE; Built in 1928 on .52 Acre Lot. Five Rooms with Possibility of 2 more on 2nd floor if finished.
FIRST FLOOR:
EAT-IN KITCHEN: (10′ x 13′) with Wooden Cabinets;
DINING ROOM (12′ x 13′) with Oak Hardwood Floors, Built in Corner Cupboard w/ Glass Upper Doors and Paneled Lower Doors, Archway to Living Room;
LIVING ROOM (13′ x 31') with Oak Tongue & Grooved Floors, Brick Fireplace, Wood Paneled Front Door, 3 Sect. Replacement Windows;
BATH (5'6" x 7'6") Oak Flooring;
COMMON AREA (5'6" x 8') with Coat Closet and Access to Large 2nd Floor;
#1 BEDROOM (10' x 14'6") with 2' x 7' Closet with Paneled Door, and Oak Flooring, Large Double Replacement Windows toward front of house;
 #2 BEDROOM (10′ x 12′) with 5' x 16" Closet, Linoleum over Oak Floor;
SECOND FLOOR ATTIC; Unfinished Section #1(28' x 38') Peak (10'); Section #2: (18' x 10'), Perch (10'), Double & Triple Hung Windows;
FRONT PORCH (10' x 25') with 2 ft. high Banisters (front & sides);
Unfinished BASEMENT:  (27' x 38') Nearly New Furnace installed January 17, 2019 – Oil Fired Hot Water Heat, 9'x12' Cistern, Rear Exit through Bilco Doors; Concrete Flooring;  I-beam full length of house, 3" x 8" Floor Joist with X Braces, Yellow Pine Sub-flooring;
OTHER AMENITIES: Oak Flooring throughout house; Well Water; Septic System. OVERSIZED ONE CAR CONCRETE BLOCK GARAGE: (20'x30') Concrete Floor; 9ft. x 8 ft. Door; Asphalt Shingle Roof. 
This Property is a Great Investment Opportunity!
 Ms. D. Elaine Graybill needs to sell this property! This is nearly an absolute auction of Real Estate! This property must be sold! Ms. Graybill bought this property in 1951.  Very deep wooden lot to the rear with stone fireplace among established shade and shrubs.
 TAXES:   Co: $841.93  
TERMS: 10% Down Sale Day, Balance & Settlement in 45 days. Subject to confirmation. Sold As-Is.
 If you have any questions please call Al Reist at 717-951-5088 for an Inspection by Appointment and a Real Estate Portfolio.
         PERSONAL PROPERTY
Vintage Singer Featherlite #210 Sewing Machine in Case w/ Accessories;
Six Showcases of Smalls
COLLECTIBLES: Deltah Green Bakalite Jewelry Case with Beaded Necklace; Small Brown Crocks; Agate Ladle; Peck & ½ Peck Measure;Acorn Pattern Butter Print; Metal Parthanon Jewelry Box w/ Key; GRAND OLD PARTY Metal Plate William Taft & Sherman 1908; B & Lomb Microscopes with Boxes; Old Havana Ribbon Cigar Tin; Baskets; Sadirons; Dolphin Bookends; Numerous Old Record Albums; Magnavox Comp Record Player; Christmas  Decorations; Costume Jewelry; Irish Lace pc; Braided Rug; Ceramic Mortar & Pestle; Tobacco Spear; Old Milk Cans; C.I. Kettles;
COINS: 1921 Morgan, 1924 Peace L.H. Dollars, Eisenhower Dollars.
FURNITURE: Blanket Chest; Bent Arm Rocker; Dough Box with Lid; Small Wooden Bench; 1860's Folding Chair; Wrought Iron Tea Cart; Child/Adult Rockers; Oak Square Top Lamp Table; Trunks, Camelback Trunks; Nice Old Dovetailed 6 ft. Yellow Grained 2 Sect. Wood Box; Early Pine Jelly Cupboard.

MISC.: Kirby Classic Vacuum; Wooden Boxes; 5 Gallon Crock; Baskets; Biscuit Tin w/ Nice Sunshine Labels; 1928 PA License Tag; Eng. Tin Floral Box; Sterling Silver Candlesticks; Costume Jewelry; Transfer Pipettes; Quartz Halogen Port. Lite in Box; Sterling Salt & Peppers; Old Handmade Doll; Bell Collection; Mickey Mantle Replica Ball; Freedom Bell Society Hand Bell (Brass); Mid Cent. Jewelry; Honisoitquimaly Pense Badge; PA Beautiful by W. Nutting; 100th Anniv. Babe Ruth Ball in Box; Graybill Bros. Refton Plate; Handless Cup/Saucer/Girls Milking a Goat; Pigeon Forge Pottery Tea Set; Boyd's Bears; Coleman Camp Stove in Box;

GLASS & CHINA: Fiesta Bowls, Large Orange Platter, Plates, Saucers; Noritake Handled Nut Server; Pyrex Bowls, Lg. Cleopatra Handless Cup & Saucer, Platter – Ironstone; Refrigerator Containers; Lidded Containers; Havilland Limoges Coll. Plates; McCoy Planters; Hullware; Rockwell Coll. Plates; Hummel Plates; Knowles Plates; Sandpiper Elephant Paper Weight; Blue Carnival Fluted Cherry/Pear Bowl; Bavaria pcs.; Occupied Japan Teapot; Set of 5 Pink Depression Mixing Bowls;

TOOLS & Lawn & Garden: Honda Self Propelled HR214 Mower w/ Bagger; Toro Wheel Horse Recycler Riding Mower; Heavy Metal Dump Trailer; Reel Mower; Troy Bilt Snow Blower (Electric Start); Troy Bilt H.D. Tiller; MTD Shredder; Stihl Electric Chain Saw; Scotts Spreader; Lawn Sweeper; New (in crate) Elect. Barn Fan; Early Pump Sprayer; Large Lawn Dump Cart; Wheelbarrow; Shepherd's Hooks, Step Ladders; Numerous Lawn & Garden Tools; Wooden Crates & Flower Boxes; Clay Pots; Planters; Gas Cans; Shop Tools; Antique Mid Cent. Schwinn Women's Bike; Apple Crates; Coal Bucket; Cast Iron Pump; Troughs; Numerous Metal Fence Posts, Metal Watering Cans; Dog & Cat Transport Boxes; New Dining Canopy Tent in Box; Nice Disston Adj. Plumb & Level, Philad; Harrington & Richardson Arms Comp. 32 S&W Ctge. 6 Shoot HandGun Ser. #181279; and much more.
**Two Auctioneers Selling Simultaneously**
MORE PHOTOS AVAILABLE at www.Auctionzip.com Auctioneer # 7416
Auction For: D. Elaine Graybill
Auction By: REIST Auctioneers, Al Reist, Auctioneer, Lancaster, PA, 717-951-5088 AU-1637-L
 **Information obtained from reliable sources. No liability for accuracy or errors assumed by auctioneer. Announcements made day of sale supersede any printed material. **